​
Protector: Classic, contingent contract service that is always available, 24/7/365.
When you recognise the need for additional Cyber Security resource to alleviate peaks of demand or to help get projects over the line, a freelance solution is often the best help you can get.
We have curated a bench of professionals along with a model that overcomes the usual learning curve, to support your team seamlessly. It's designed to ensure the talent benefits your project in the quickest time possible and integrates them seamlessly. We can have a professional with you within 24 hours. With no risk and no expense, this is formidable.​
To download Protector PDF click here>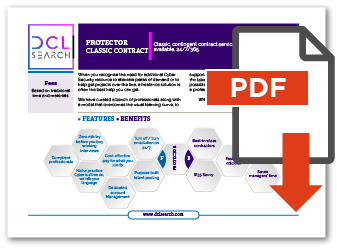 ​
---